Descending into the depths of the Memorial of the Battle of Arras, helmeted like a Tommy, is an unforgettable experience. One hundred years later, the vaults of the Wellington Quarry still ring to the sound of the New Zealand Tunnellers' pickaxes and the laughter of British soldiers. Twenty metres below ground, I discovered a town within a town. Before experiencing an adrenaline rush as if I, too, were about to go down in History.
Picked like a poppy
At the Wellington Quarry, the experience begins outside. Like everyone, I am picked like a poppy by the impressive wall of portraits of New Zealand Tunnellers.

Sturdy "N-Zs" who delved out the Wellington Quarry's eight kilometres of tunnels between October 1916 and March 1917. They look back at me, with pride. They also speak to me. In fact, the gently sloping entrance into the Memorial is filled with the sound of first-hand accounts read from their war diaries. Then, things speed up: I don my Tommy helmet and collect an audio-guide, my only piece of kit. In a flash, I am teleported back to April 1917!
An immersive experience 20 metres below ground
A city devastated by bombardments. My first sight is shocking: Arras in ruins.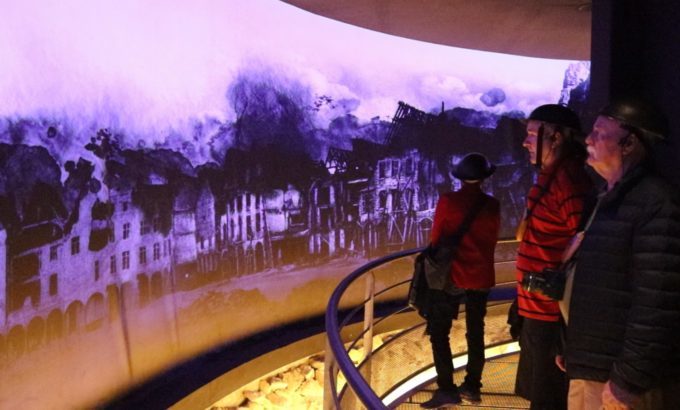 Only the roaring of shellfire pierces the fury of the heavens. Where has the light gone? The answer comes twenty metres further down, when the lift opens onto the white chalk of the Wellington Quarry. It is 11°, humidity is high but I am soon warmed by a few piano notes, words and then singing. Wooden planking guides my steps, subdued lighting directs my gaze towards World War One graffiti and archive images plunge me into the Battle of Arras as though I were there.
A town beneath the town
One question gnaws at me: how do 24,000 soldiers lie on top of one another for a week in this warren of underground tunnels?
Thanks to discipline of course! The smallest crannies of the Wellington Quarry are exploited to the full for daily living: showers, a transmission room, an officers' office. There's even a store for the very pickaxes used to dig out the tunnels. There's also pillar 5E, where the last prayer service was held before the attack. And the ascending steps of Exit no. 10, from where the troops erupted on 9 April 1917 at 05:30 hours.
The Wellington Quarry in practice
Every day from 9.30 am to 12.30 pm and 2pm to 6pm
Exceptional closure at 4.00pm on 24th and 31st December.
Closed on 25th December, and from 1st to 20th January 2023 included.
Duration: 1h15
Rue Arthur Delétoille, ARRAS