Inseparable from its Belfry, the Town Hall of Arras is an incredible building, its Art Deco central structure draped with a Flamboyant Gothic mantle. A masterpiece that is unique in France, symbolic of the renaissance of Arras after the First World War.
The Town Hall, a festival of architecture
The Town Hall reigns supreme over the Place des Héros and those discovering it for the first time are always awestruck.
The Town Hall is distinctive on two counts. Outside, it is a festival of architecture of Flamboyant Gothic style. A magnificent replica dating back to… 1942! And yes, those arcades, pinnacles, dormers and other ridge spikes embellished with gold leaf are identical recreations constructed after the explosion in October 1914 which razed the Belfry and the Town Hall to the ground.
An Art Deco Renaissance
Reconstruction was essential. Listed as a Historical Monument, the interior of the Town Hall was the subject of an unprecedented project of modern architecture, designed by Pierre Paquet. This Art Deco wonder was inaugurated in 1932.
The Codes of Art Deco
Art Deco style is immediately in evidence on the ground floor – say hello in passing to the Giants of Arras.
Stencilled motifs, stained glass windows with geometric shapes, light fittings, wrought iron gates: no expense was spared on the reconstruction! The greatest craft artists of the 1920s and 1930s worked on it. The three rooms on the upper level constitute an Art Deco manifesto.
Surprises behind every door
In the Council Chamber, in awe we admire the elegance of the Hungarian Oak, a war reparation paid in kind. From the parquet floor to the coffered ceiling punctuated by Art Deco light fittings, solemnity holds sway. The Wedding Hall is bursting with spring thanks to the marouflaged canvas painted by Louis Jaulmes. Women, flowers… unquestionably the code of the 1930s. The Reception Hall ends the visit with a flourish.

A frieze on the walls
With its 800 figures, the immense fresco by Hoffbauer is inspired by Brueghel the Elder and contrasts with the panels sculpted with hundreds of figurines, some of which are decidedly mischievous and will fascinate you on a guided visit.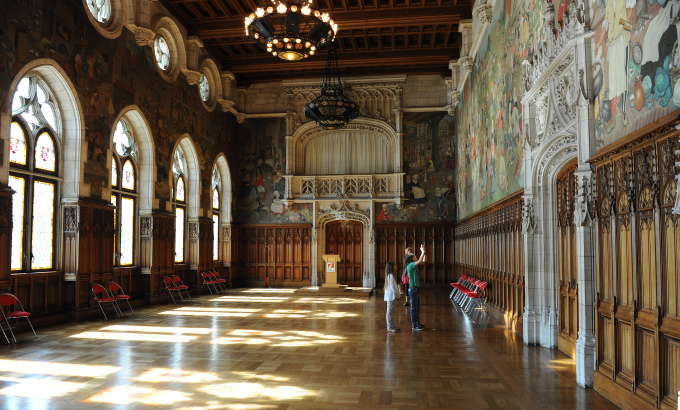 The best of the city's riches
The Council Chamber is decorated with a panel by the Arras-born painter Charles Hollart, entitled "La Renaissance d'Arras dans la paix et le travail" (The Renaissance of Arras in peace and labour). Can you find the city's key features in it? Poets, tapestry, Bleu d'Arras porcelain, Clusius… just a few clues!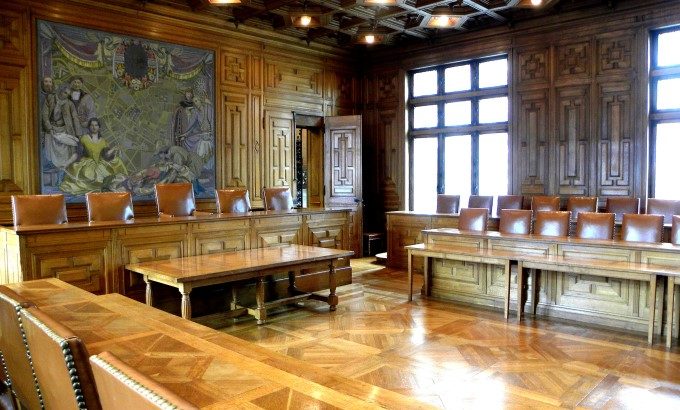 In Practice : Visit the Town Hall
Subject to availability of the rooms :
Every Sunday at 3.00pm .
From 8 July to 2 September: Monday to Friday at 3.00pm, Sundays at 11.00am and 3.00pm.
All Saints holiday (autumn half-term): Visits daily (subject to availability of the rooms)
Full price: €4.40 – Concessions: €3.20 (students and children from 6 to 18 years old).