Talking about beer sets his eyes sparking and his moustache bristling! Luka Antonic is one of the new generation of beer enthusiasts. This distinguished zythologist, a connoisseur of brewing in the Hauts-de-France and the whole world, has opened Chez Marcel, a hyper-trendy, chic and cosy beer bar in Arras. The Place to Beer!
Arras, a brewing destination
This is just what the lively Rue de la Taillerie needed.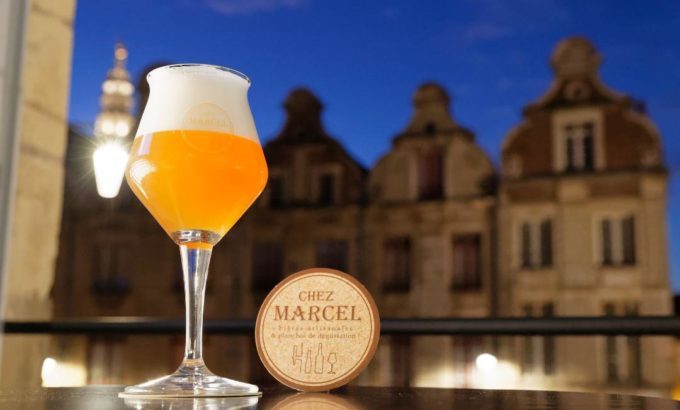 Between the Grand'Place and the Place des Héros, Chez Marcel has become the favourite spot for beer lovers on the lookout for new trends and the latest offerings from the craft breweries in the Hauts-de-France region, in France and the world over. "I opened the bar in December 2017, in this former soap maker's premises. In a way, foam has remained a feature of this establishment!" explains this welcoming former lawyer who has a ready smile.
A beer bar in Historical Monument
"I'm originally from Berck-sur-Mer but I used to spend every weekend and my holidays in Fampoux, near Arras.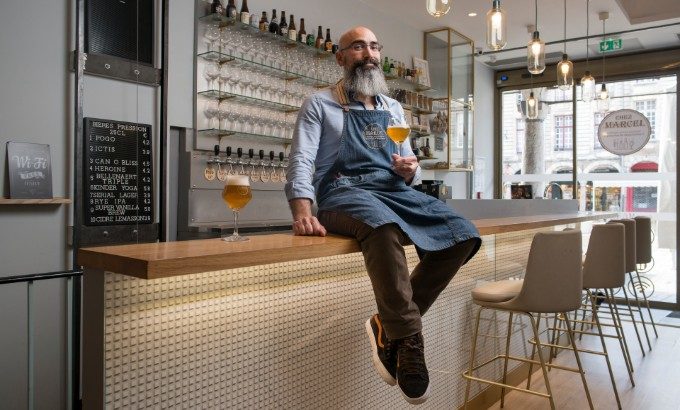 Arras is an incredibly dynamic city which has always impressed me by its architectural beauty. Opening a beer bar in a setting such as this, it's something of a childhood dream." He has maintained the distinctive character of this building, which – like all the buildings on the squares of Arras – is listed as a Historical Monument, with its original parquet flooring and walls steeped in history.
Beerology, a passion
As far back as he can remember, Luka Antonic has always had a passion for beer.
"It's the only drink that offers such a diversity of tastes, aromas and flavours. I was frustrated at not being able to express what I felt when I tasted it." So he enrolled on an 18-month zythology course at the IFAPME vocational training centre in Liège. "Also known as zythology, beerology is a discipline dedicated to beer, brewing and breweries, in terms of history, technique and taste," he explains.
Beer, a matter of conviviality
"Beer has become a drink offering a taste experience in its own right, reinvented with creativity by numerous craft breweries in the region
The symbol of conviviality par excellence, this drink constantly surprises me and that's what I wanted to share by creating an authentic and convivial place where people come for a good time. "Under the arches, one senses that Chez Marcel is a place passed by word of mouth between friends and in-the-know epicureans. Friendly, modern and light, the bar offers a selection of beers chosen only for their appeal.
Always something new
Nine draft beers and twenty or so bottled beer are presented in a little photo album-style book, classified according to their major taste families: sweet malty, grilled and roasted malty, hopped or bitter, acidic or winy, fruity or spicy.
"I built up my network through meeting and visiting brewers," explains the man who declares admiration for the brewing adventures of the Brasserie Saint-German in Aix-Noulette (the famous Page 24) and for the Brasserie Thiriez in Esquelbecq, in the heart of Flanders.
A world of delicious flavour
Installed at the bar officiated by the master of the establishment or nestling comfortably in the leather armchairs in the room upstairs, here you will sample the Arras art de vivre!
Discovering an India pale ale, or an Imperial Stout-type dark beer; savouring the rich aromas of malt, yeast and herbs in an unexpected Belgian pale ale; treating yourself to a tray of regional specialities, local cheeses and cured meats; and listening during workshops to the knowledgeable Luka Antonic telling you all about roundness, flavours, body, balance and hopped, floral or fruity notes: if a beer Paradise exists, it's here in Arras. Cheers!
Chez Marcel, in practice
30 rue de la Taillerie(between the Grand'Place and the Place des Héros ), 62 000 Arras. Tél. : +33 (0)9 87 07 37 29.
chezmarcel.arras@gmail.com
'Introduction to beerology' workshops and mystery tastings. For the programme, find us on Facebook @chezmarcelarras.
Open from Monday to Thursday, noon to 2.00pm and 5.00pm to 11.00pm. In the afternoon for groups, Fridays from 5.00pm to midnight and Saturdays from 12 noon to midnight