They are ambassadors for the gourmet specialities of Arras and the Hauts-de-France region. In Achiet-le-Petit, the Ferme aux Chiconnettes ("farm of the Belgian endive" in English) run by Véronique and Pascal Duforest combines two passions. Madame grows endives in the traditional way. And Monsieur creates divine cravings with his sweet and savoury artisanal confectionary. An encounter with an irrepressible couple!
Arras, a gourmet city with an inspirational past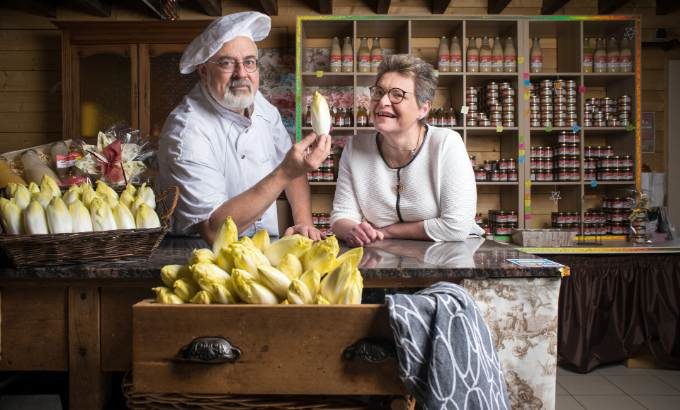 From their adventure in Arras – they ran a pâtisserie in the Rue Saint-Aubert until 2006 – Véronique and Pascal have both developed an unconditional love for "this extraordinary city, with its rich heritage and varied terroir." Ambassadors for local gastronomy and artisanal produce, under the Tourist Office's Arras, Pays d'Artois Original brand, they offer a variety of tempting treats: sweets, marshmallows, sugar grains, endive conserves, chicory velouté soups and their latest creation: soft, melt-in-the-mouth Mascaron treats.
The Mascarons of Arras
As you pass the Renaissance style wings of the Town Hall, have you stopped to admire those small, rather grimacing stone faces?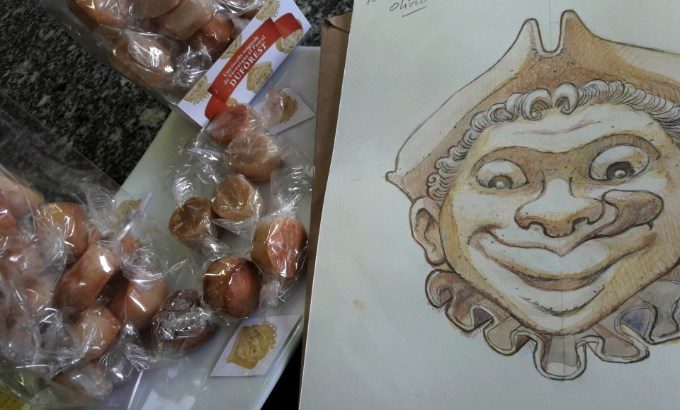 Known as mascarons in architecture, these stone decorations were common in France in the sixteenth century. "It used to be said that these stone faces warded off evil spirits," explains Pascal. "It was a small step from "mascaron" to "macaroon"! I came up with a small delicacy to slip into your pocket and enjoy as you wander around Arras." These delicious little treats are made from almond paste and they combine sweetness with a natural and subtle hint of bitterness on the palate.
Confectioner for ever
Pascal produces his creations in his workshop, and you can watch the process unfold during his Open Days.
What a rainbow experience it is! See chocolate gleaming in the moulds, watch sweets of every colour take form, hear the mechanism of the 1954 wrapping machine as it envelops each one. Artisanal know-how at its very best. A marshmallow with 3 types of chocolate? A poppy flavoured sweet? Or what about a crapouillot? It is the name of a trench mortar, but recreated here as little pearls of nougatine and chocolate to mark the Centenary of the Great War. Here, mouth-watering treats have a sense of history and sharing too.
From pâtisserie to chicory
But the distinctiveness of the Ferme aux Chiconnettes also lies in its passion for a very local vegetable: the endive.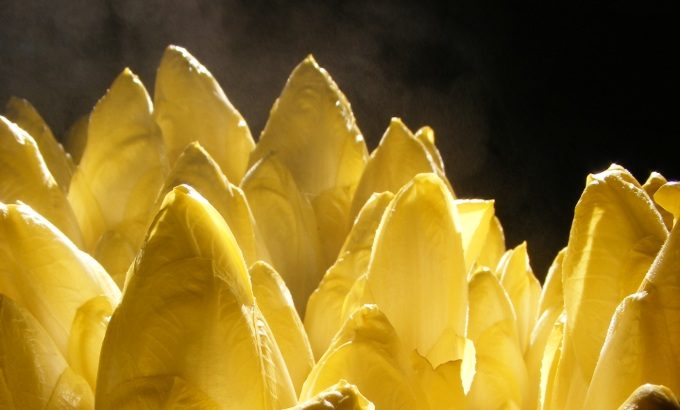 "We discovered chicory when we were admitted to the Guild of the Endive, and we were totally captivated by the secret side of its cultivation," explains Véronique. So much so, that they threw themselves body and soul into this demanding growing method. "Growing it in the field, like they used to do, is going back to our roots. Watching this immaculate pearl emerge from obscurity is magical."
A visit here is a must, to discover the methods for growing the "root of the devil"; to learn about its virtues; to hear the distinct "crack" as it is separated from its root; and to find inspiration from the multitude of recipe ideas on offer: chicory conserves made with shallots, with Speculoos biscuits, with spiced bread, with walnuts, mango and figs to name but a few!
The final temptation? Bite into a Belgian endive with chocolate, the speciality that best symbolises this highly unusual venture..
In practice: where to purchase these products ?
At the Ferme aux Chiconnettes, 23 rue d'Angoulême, 62121 Achiet-le-Petit.
Tel: +33 (0)3 21 23 69 14 – www.lafermeauxchiconnettes.com
At the Tourist Office of Arras and the Pays d'Artois, at the Town Hall of Arras under the Arras Pays d'Artois Original brand.
Marshmallows with Vergeoise sugar, poppy flavoured sweets, honey, mint, eucalyptus, chicory conserves, endive soup etc.