The Citadel of Arras is home to an astonishing business: La Finarde cheese dairy. Within the historic military buildings, Jean-François Dubois patiently refines specialist cheeses that are emblematic of Arras and the Hauts-de-France region. Encounter.
Cheese cellars in the former powder magazines
The treasure of the Citadel is well hidden. Although the business office, in the old Airship Hangar, is not difficult to find, you have to keep up with the hurried footsteps of Jean-François Dubois if you want to find the indiscernible entrance to the former powder magazine of the Bastion of Orléans.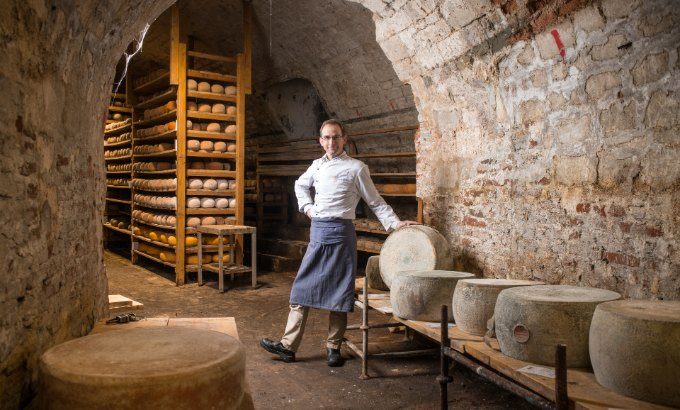 Although there is no smell of gunpowder here. The powerful aroma of cheese fills this brick-vaulted cellar packed with wooden shelves. Around one hundred cheeses sit on the spruce shelves: 12-month-old regional mature Mimolettes made with raw milk or Italian Parmesans among others. Other specialist cheeses will soon be taking up residence in the powder magazine of the Bastion of Anjou, on the other side of the Porte Royale.
Ideal conditions for cheeses
The Citadel of Arras, a surprising location for cheese refining? "Not all that surprising," replies Jean-François Dubois.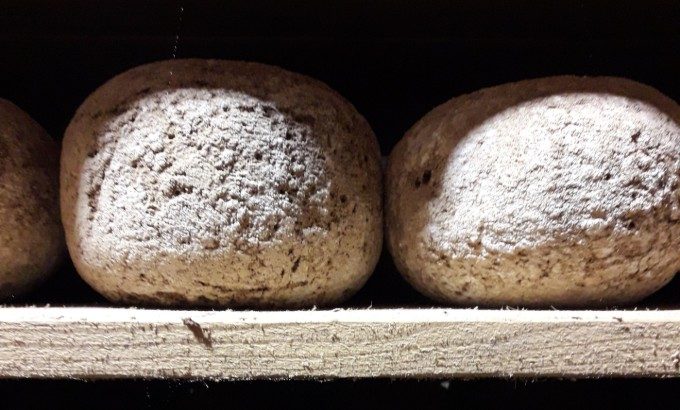 "There are refiners of Comté cheeses established in military buildings, like the Fort des Rousses in the Jura." Arriving here in 2012 after the demilitarisation of the site, the cheese retailer was looking for "a place to develop refining and to develop a range of particular cheeses of very high quality. These cellars are ideal for refining, with humidity of between 95% and 100% and a mild temperature of 10°C to 15°C. I find it a source of pride to work here, on this lovely historical site."
Ambassador for regional products
La Finarde stocks more than 150 national cheeses across the range of hardnesses, all the great classics nurtured by the terroirs of France and its European neighbours. Jean-François Dubois nevertheless lays claim to being an "ambassador for the region's historic cheeses.
I reject the whims of fashion. Introducing people to the quality of Maroilles, Cœur d'Arras, Dauphin, Bergues, Mimolette or Gouda… that is what is important to me." Five artificial cellars in the old Airship Hangar complete the natural refining process in the powder magazine. Or the art of combining tradition and modernity.
---
La Finarde in pratice :
Office and refining site, no on-site sales: Citadel, Airship Hangar, bd du Général De Gaulle
Tel. : +33 (0)3 21 73 44 21
Where to find the cheeses :
on the markets of Arras. On the Grand'Place on Wednesdays and Saturday mornings; Place Lanvin on Thursday mornings; Place du Rietz on Thursdays from 3.00pm to 7.00pm.
At the Wazemmes indoor market in Lille, tel: +33 (0)3 20 74 27 60