Arras wouldn't be Arras without its "Bleu". This specialist decoration on porcelain is unique in the Hauts-de-France and beyond. Established on the Place des Héros, Christelle Perrier is the only artisan to perpetuate this know-how, which goes back to the eighteenth century. An encounter with an enthusiast.
A living art
The frontage of number 32, Place des Héros, sets the tone. This is the realm of Bleu d'Arras porcelain.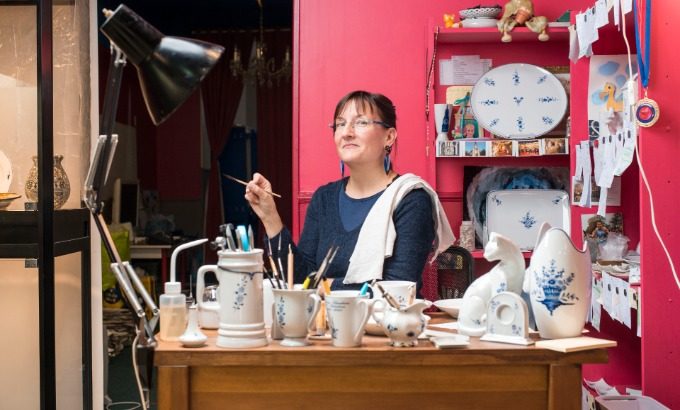 Tableware sets, lamps, vases and decorative objects: the shop windows display the delicate treasures within. At the back of the shop, Christelle paints. Before the visitor's eyes, patterns of garlands, palmettes, sprigs and flowers are born, patterns that have made the city's reputation.
The blue twilight of Arras
"The story of Bleu d'Arras started in 1770 with the Delemers sisters" , explain Christelle.
They were a family of four sisters, and they set up a porcelain factory employing as many as 20 people. Their source of inspiration? The decorations of Tournai and Chantilly. The adventure lasted for just twenty years, long enough to forge a reputation for the city, founded on the delicacy, quality and diversity of the shapes and decorations created.
«You can admire a magnificent collection of these masterpieces at the Arras Museum of Fines Arts and at Saint-Vaast Abbey", Christelle recommends.
A heritage craft
«The factory closed in 1790, there being no heirs to pass it on to, and the technique was lost for a full two centuries.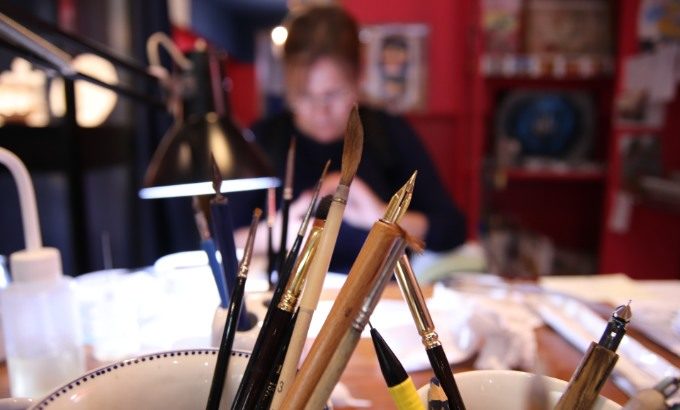 In the 1960s, Henri Caudron rediscovered the recipe and revived Arras porcelain. Christelle's predecessor, Maurice Segard, who is known to everyone in Arras, trained with him and with Portuguese artisans too. He carried on this centuries-old tradition for 30 years. Just a year and a half ago, he was despairing of finding that special someone who could pick up this delicate art of pure Arras tradition
A new momentum
That was reckoning without the Burgundy-born Christelle Perrier; that and a fair amount of luck.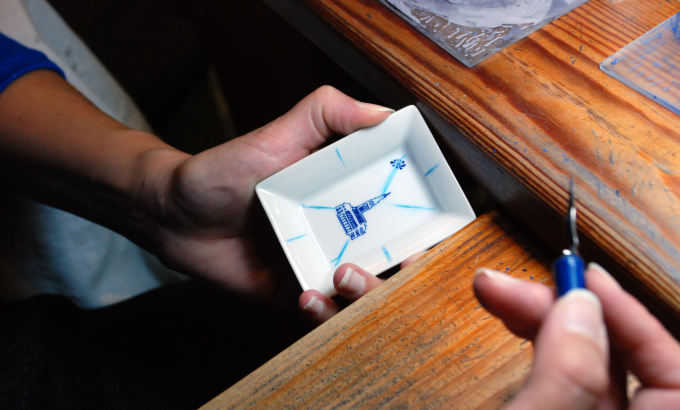 "I trained at the Olivier-de-Serres School in Paris and taught the arts of the fire in vocational colleges for ten years, in Dijon and Paris. It was when i followed my husband here, who is originally from Béthune, that I discovered this shop by chance. Tere aren't any schools that teach the techniques and patterns of Bleu d'Arras. Maurice Segard passed on his knowledges to me. The fact that i am perpetuating this unique artistic craftmanship, yes, many people are touched by that."
A unique art in France
"What makes the technical distinctiveness of Bleu d'Arras is the use of cobalt blue, a powdered pigment, its clear, luminous lustre revealing itself with firing," she explains as she constantly mixes this secret preparation – which gives off the marked aroma of turpentine oil – with a knife. "
I source the porcelains from Limoges and, once painted, they are fired very hot, for six hours at 1,300 °C." Christelle applies lines and curves directly with a metal quill pen, or using old poncif stencils.
There are some forty typical eighteenth century decorations, including the famous "Monsieur de Calonne", inspired by the lace jabot worn by that Intendant of Artois! Then she adds relief to the design with the use of a fine paintbrush. Her expert hand does not hesitate for a second. You'll see, it is a real spectacle.
Bleu d'Arras in practice
Au Bleu d'Arras, 32 Place des Héros, 62000 Arras
Tél. : 03.21.71.17.88