Just a few paddle strokes away from the centre of Arras, the rapids at the Saint-Laurent-Blangy Water Sports Centre await you for the thrill of a raft or kayak descent. For those who prefer dry land, don't forget that the banks of the River Scarpe are also the starting point for a variety of cycle and walking routes.
The great leap
A 200-metre descent aboard a riverboard, raft, kayak or even an inflatable hot-dog… whatever your chosen craft, it's an unforgettable experience.
"Especially because the conveyor belt means you can make several runs without exhausting yourself paddling upstream." Former kayak champion Thierry Beugnet has the knack of finding the right words to persuade waverers to take the plunge, "including people who can't swim. We're not afraid of anything here." Except for developing a stitch, perhaps, from fits of laughter. Twenty years after its creation, the Saint-Laurent-Blangy White Water Centre is still a unique amenity in the leisure landscape of the Hauts-de-France.
A centre for champions
Champions like Tony Estanguet, or man-and-wife team Myriam and Richard Fox know it well.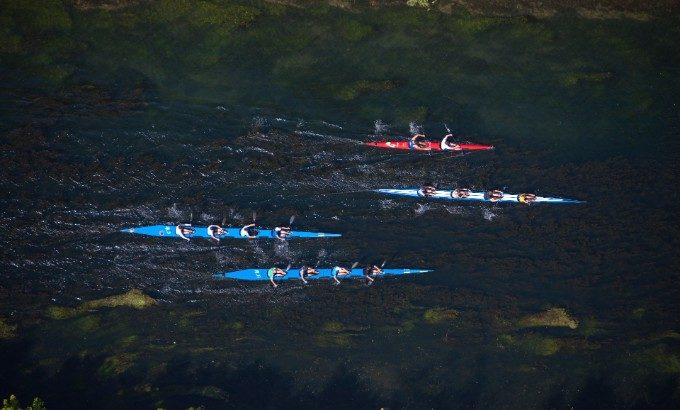 The centre is also home to ASL Saint-Laurent Blangy, the canoe-kayak club, which has turned out true champions like Thomas Simart who is set to take part in the 2020 Olympic Games in Tokyo! But not everyone is an Olympic medallist. No problem. Here, the water flow is regulated, you slip on a reassuring wetsuit and are coached to tackle the eddies in maximum safety.
Take to the paths by bike
Although the river has been diverted to create this hub for thrilling water activities, the less adventurous can still enjoy canoeing, pirogueing and even paddleboarding.
. A very in-vogue mix between a raft and a windsurfing board. At the same time, the site has offered alternative activities for a few years now. But land-based this time. Walks, scooter outings and, in particular, mountain bike trips up to 25 kilometres long. Whether accompanied by a guide or otherwise, you set off on a discovery of unspoilt nature. But the least energetic will be delighted to learn from Thierry Beugnet that "you can picnic and have fun without venturing too far." Taking part in archery, javelin throwing, orienteering and even blowpipe shooting.

The Water Sports Centre in practice
White Water Centre, 25, rue Laurent Gers à Saint-Laurent-Blangy.
Open 7 days a week from 1st March to 31 October from 8.00am to 6.00pm and Mondays to Fridays from 1st November to 28th February from 10.00am to 4.00pm.
Closed between Christmas and New Year.
Booking required all year, tel : +33 (0)3 21 73 74 39