A charming stay in an Art Deco mansion. The Château de Fresnoy-en-Gohelle is a real showstopper just 15 minutes from Arras and an hour and a half from the Côte d'Opale. We highly recommend a bed and breakfast stay to appreciate it to the full. Charm, Art Deco architecture, tranquillity, refinement and the welcome extended by Jannick Blavier make this a not-to-be-missed stopover during your visit to Arras, in immediate proximity to the key historical, cultural and tourist sites on offer in the Hauts-de-France region.
A dream mansion
"Yes, this house is my dream, something I fell in love with and all the madness that goes with it!"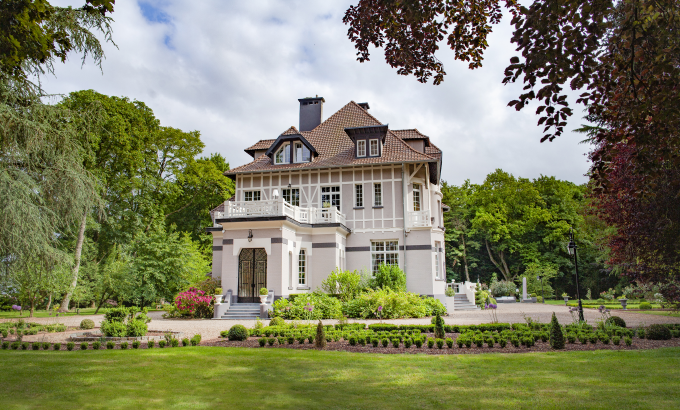 laughs Jannick Blavier as he welcomes us to the "château", or more accurately an imposing Art Deco style mansion boasting a mix of Anglo-Norman architectural features. You don't expect such a magnificent residence, in this small village of 250 souls, as you go through the gateway onto an avenue leading to a park covered with majestic trees, like the superb blue cedar, and a vast green space edged with rows of bushes and rose trees and featuring an adorable vintage pavilion.
An Art Deco showcase
Before setting down our suitcases in one of the three first-floor bedrooms, Jannick tells us all about the history of the château's: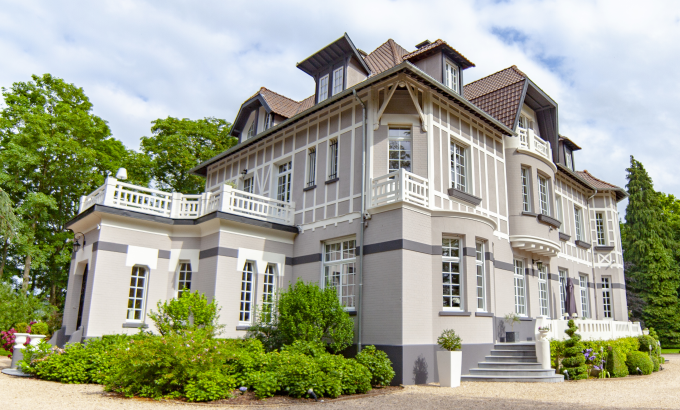 "The Arras Tourist Office taught me a lot during the Art Deco Spring tours. There are some major Art Deco features like the large wrought iron entrance door with its geometric patterns and stylised flowers, the handrails and these bow windows, but also elements in Anglo-Norman style – this half-timbering for instance – because after the war coastal resorts were very in-vogue. The entire facade, even this wall section which appears to be in brick, is made from worked concrete."
Elegance and conviviality
Once you have crossed the lobby, the guest lounge with its typically Art Deco oak staircase judiciously painted in anthracite grey, leaves you open-mouthed with awe.
It draws the gaze, an invitation to look up in wonder to admire the full nine-metre height of this space which has been fully restored with taste and refinement. With its stone slab floor, Anglo-Norman style wood panelling, imposing fireplace and comfortable seating area, an exceptional interior awaits you. The dining room is just off to the side, a cosy place to savour the delicious breakfasts at which local cheese and delicatessen meats are served. Polished herringbone parquet flooring, crystal chandeliers, silverware, porcelain tableware, antique furniture: Jannick has spared no effort in recreating absolute harmony in this historic residence which opened its doors in 2015 after major restoration works.
A long history
Nothing remains of the original early eighteenth century building, called the "Château Colombel".
Destroyed during the First World War, this imposing manor house was rebuilt with war damage reparation money between 1928 and 1932. It was occupied by the Germans during the Second World War. They converted the lake into a swimming pool, as can be seen in postcards from the period.

Filled in again after the war, it has been recreated by Jannick. The Château was also a property owned by the Houillères du Bassin du Nord et du Pas-de-Calais, the post-war nationalised coalmining company. There followed a succession of four families before the arrival of Jannick's, who has "met them all thanks to the bed and breakfasts." Steeped as it is in anecdotes and charged with emotion, the building was chosen for the shooting of television series such as Les Petits Meurtres d'Agatha Christie" (French adaptatons of Agatha Christies's stories) and Inspector Magellan.
A romantic escape
An alcove nestling near the staircase offers the perfect niche in which to end your evening over a romantic glass of wine before heading for your room or the suite.
Will you choose the classic Héritage, the cosy Harmony or the exceptional suite, Privilège? Marble fireplaces, delightful ultra-chic bathrooms featuring original Art Deco sinks, elegant wallpapers, distinctively styled decoration and sumptuous bed linen: you will spend a beautiful night in this little piece of Paradise in the Pays d'Artois.
Chosen for a music video!
Having fallen for the Château de Fresnoy-en-Gohelle, the group Shoot in Mars chose to film the video for their song "Henry W. Gates" there! It suited their pop & folk sound to perfection
the Château de Fresnoy-en-Gohelle, in practice
3 bedrooms, sauna and fitness room, bicycles available.
www.lechateau-fresnoy-en-gohelle.com