Pas meaning "footstep" in French, its name alone inspires escape and wanderings. Halfway between Arras and Amiens, awarded the Pays d'Artois Villages Patrimoine© label, Pas-en-Artois has plenty of secrets to reveal. Crossed by the River Killienne and nestling in the heart of a green valley, it is a true little corner of Paradise.
Nature in all its glory
What charm this little village of 820 inhabitants has!
Woods, countryside, water courses: here you take a step into Artois at its pastoral and rustic best. The best way of taking in every facet of all this exuberant nature is to take the "Sentier des Bois" footpath (10 km) starting at the village hall, for a 2 ½-hour change of scenery on foot.
Water and a château

Pas-en-Artois is crossed by the River Killienne, a tributary of the Authie which rises not far away in Warlincourt-lès-Pas. It also meets another stream, the Beaucamp, close to the church. The babbling of running water follows our footsteps. First, we stop to admire the eighteenth century château standing on the southern slope of Châtelet hill. Being privately owned, it is closed to the public but it can be seen in all its splendour as part of an astonishing panorama.
A breathtaking panorama
In fact, Pas-en-Artois emerges into sight from the top of the Saint-Pierre hill on the other side.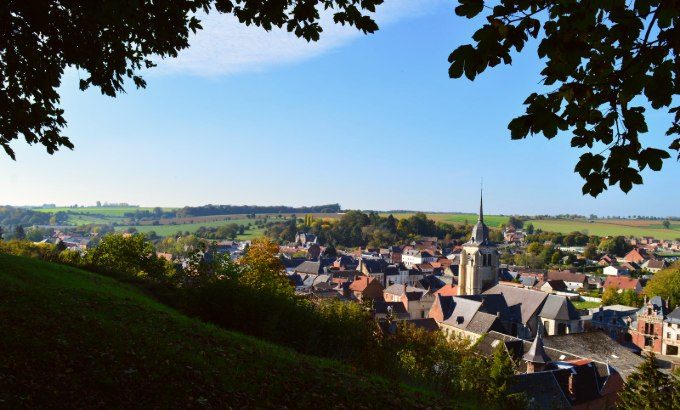 The climb up through the wood is instructive. Here, bomb craters remind us that the village was targeted by bombing raids during the Second World War. Elsewhere, a shrine dedicated to Our Lady adorns a majestic oak which appears to come straight out of a storybook. A large Calvary marks the highest point, and from here you can see the village and the Church of Saint-Martin's graceful bell tower which is listed as a Historical Monument.
In the village centre
Standing in the centre of the village, the beautiful Church of Saint-Martin dates from the eighteenth century.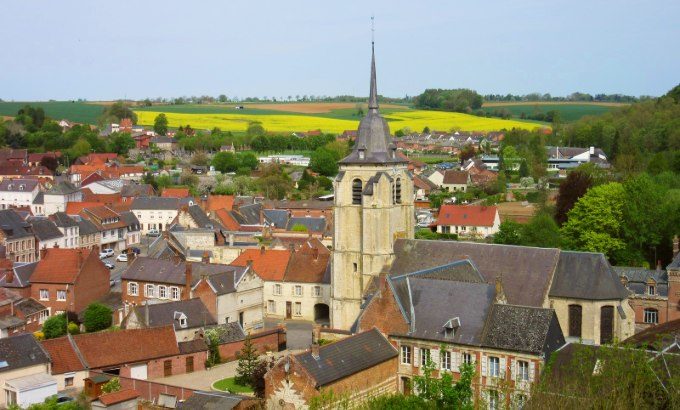 Since it is part of the Eglise Ouvertes (Open Churches) network, a visit is highly recommended: push open the door to discover, among other things, the superb nineteenth century stained glass windows by the Arras-born master glass-maker Félix Courmont. Another interesting fact: the French film director Christian Carion chose the village as the set for shooting his movie Come What May. Perhaps you recognise some scenes from the Rue Basse-Boulogne and the Grand'Place? Another secret to be relished here is the Stone of the Guétifs! Cuckolded husbands and village reprisals… we'll say no more, come and solve the mystery for yourselves!
Pas-en-Artois in practice:
The "Village Patrimoine" trail and its 6 key points of interest guides you around the village streets. For those who want to explore all the way round, follow the le Sentier des Bois, 10km – 2h30
Place to eat: Le Grand Cerf is a good traditional eatery, 2 Place André Werquin, 62760 Pas-en-Artois. Tel: +33 (0)3 21 48 11 12
To find out more: Office de Tourisme des Campagnes de l'Artois Tourist Office – Avenue François Mitterrand – 62810 Avesnes-le-Comte. Tel: +33(0)3 21 220 200 – http://www.campagnesartois.fr