Follow the pointers… the pointed crocketed spires, that is! Just outside Arras, a number of churches proudly display their stone spires, adorned with crocket decorations. Seven of them boasting this special architectural feature form a trail, which takes in pretty historic villages, architecture and picture-postcard landscapes. En route!
Villages full of charm
Set the compass north-west of Arras! Within a radius of fifteen or so kilometres, seven villages offer an enthralling outing.
They all have a church with a crocketed spire and some boasting the Heritage Villages label are particularly charming. You'll see them in Ecoivres, Hermaville, Habarcq, Camblain-l'Abbé, Savy-Berlette, Béthonsart and Mingoval. Tall and slender, they can frequently be seen from afar!
The crocketed spire trail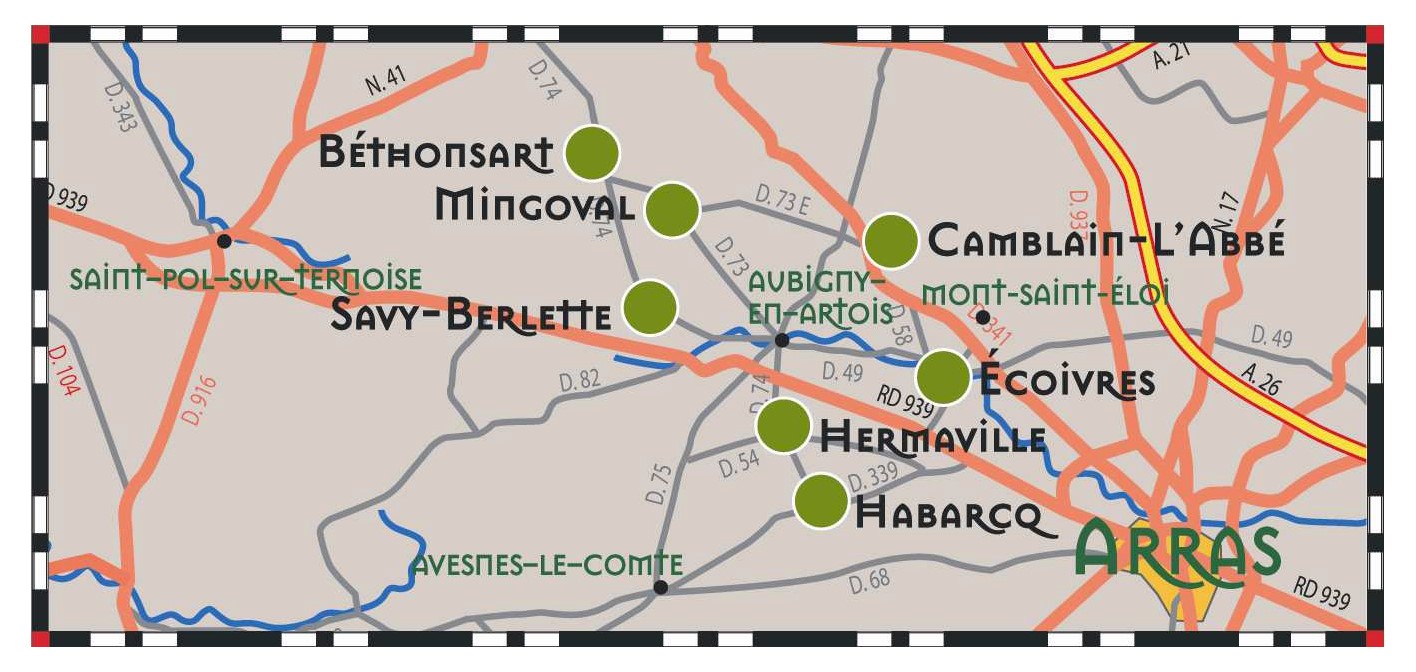 A remarkable architectural feature
What was the origin of those crocketed spires soaring over the church bell towers of Artois? You have to go back to the twelfth century for an understanding of their roots. It was a period that saw churches being built ever higher, ever more beautiful. So octagonal limestone spires were constructed on the bell towers. They were several metres high, sometimes the same size as the bell towers supporting them – like that of Camblain-l'Abbé for instance (measuring no less than 22 metres!). But how were these fragile structures maintained? Quite simply by adding these stone "crockets", hook-shaped decorative elements, which were smooth on top and often sculpted on the underside. Their role was to support scaffolding boards.

Specific to Artois ?
No, not really. Churches of this type are also found around Saint-Omer and Lillers
But the surprising thing about those near Arras is their dense concentration over such a small area. Some twenty were probably constructed between 1550 and 1650, and some were reconstructed later. At that time, the villages were regularly threatened by war and the church was a refuge as well as a place of worship. Hence their often solid appearance, with a bell tower shaped like a defensive tower and characteristic defensive elements: parapet walkways (Savy-Berlette), corner watch turrets, arrow-loops or arrow slits (at Béthonsart or Mingoval), guard rooms (at Camblain-l'Abbé and Hermaville) and buttresses (Habarcq).
Stone treasures
It can be difficult to make out the detail of the sculptures decorating the crocketed spires, even with your nose high in the air! Don't forget to take a pair of binoculars!
Among our favourites are the crockets on the Church of Sainte-Elizabeth de Hongrie in Béthonsart and those on the Church of Saint-Georges in Hermaville, with their very varied decorations including human and monstrous figures, sheaves of wheat, keys and flowers. In the church entrance, a recent crocket has been remade. A human figure worth closer examination! During the Heritage Days, or in some churches on the Open Churches network, guided visits allow you up onto the parapet walkway on some bell towers to examine them more closely.
the crocketed spires trail in practice
A discovery trail has been printed by the Tourist Office. The best place to start your walk is from the square in Mont-Saint-Eloi. On a clear day, you can see the tall crocketed church spires across the Pays d'Artois.
1- Church of Saint-Martin in Mont-Saint-Eloi (hamlet of Ecoivres)
2 – Church of Saint-Pierre in Camblain l'Abbé
3 – Church of Notre-Dame in Mingoval
4 – Church of Sainte-Elisabeth-de-Hongrie in Béthonsart
5 – Church of Saint-Martin in Saby-Berlette
6 – Church of Saint-Martin in Habarcq
Not on the trail, but worth seeing nevertheless : The Church on Saint-Martin in Pommier (in the South of the Pays d'Artois)